The possibility of detection and identification of trace molecule quantities is highly sought-after in a range of analytical procedures in diverse scientific applications, medicine, forensic analysis. Raman spectroscopy is one of the techniques providing a rich body of information on molecular structure of objects with micron space resolution. Application of surface-enhanced Raman scattering (SERS) enables to achieve enhancement of the Raman scattering signal of molecules by 6-14 orders of magnitude, which allows detecting unknown substances with single-molecule sensitivity. This makes Raman spectroscopy a leading technique for qualitative and quantitative analysis.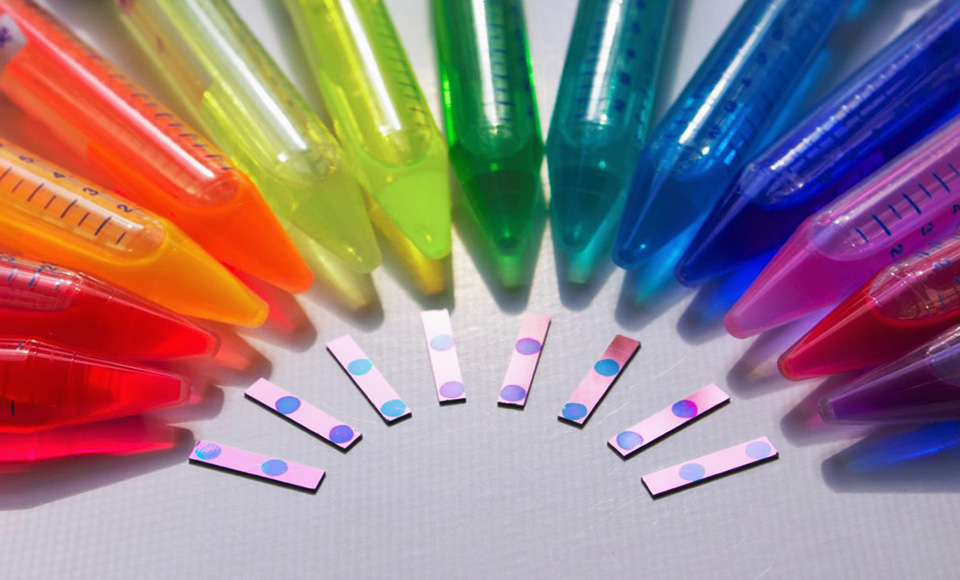 Similar to the infrared absorption spectrum, the Raman spectrum is composed of a combination of spectral lines corresponding to frequency assemblies of oscillating and rotational motion of molecules which are unique for each type of molecule. In actual practice the Raman spectrum is obtained by focusing the laser beam onto the sample, then the scattered light is analyzed by a spectrometer with an optical detector. To measure SERS-enhanced Raman spectra of molecules the substance under investigation should be appropriately brought into contact with the SERS amplifier. The concept of SERS amplifiers is essentially based on enhancement of the amplitude of the electromagnetic field in the vicinity of curved and nano-structured surfaces of noble metals. Field enhancement is observed on sharp metal surface edges, on separate or aggregated metallic nanoparticles.
EnSpectr Inc. has developed innovative SERS (Surface Enhanced Raman Scattering) Substrates for the whole visible spectral range which enable identification of various chemical compounds in extremely low quantities (up to several molecules). EnSpectr SERS Substrates can be used in everyday chemical analysis as well as in fundamental scientific research. Due to a very weak Raman signal or an ultra small amount of some chemical substances identification is only possible with SERS technology boosting the Raman signal by 6 orders of magnitude.
Here are some examples of SERS applications:
Detection of prohibited substances
Research of cells and tissues
Bioscience and pharmaceutical research
Product authentication with spectral markers technology, etc.
EnSpectr SERS Substrates can be used for identification of micro doses (from several hundred to several thousand molecules) of organic and chemical substances in applications ranging from composition analysis of biological fluids (urine, sweat, saliva, etc.) to identification of organic admixtures in air and water.
EnSpectr SERS Substrates are rectangular, sized 4 mm x 20 mm, with two active Ø 4 mm SERS zones; each SERS substrate in a separate vacuum capsule.
The minimum order is 5 SERS substrates.
Click / tap a thumbnail to enlarge
Laser wavelength, nm
Enhancement factor, ×106
Substrate material
glass
silicon
Dimensions, mm
Rectangular, 4 mm x 20 mm
Rectangular, 4 mm x 20 mm
Active area, mm
two zones, each Ø 4 mm
two zones, each Ø 4 mm
Packaging
1 chip per tube; 5 tubes per vacuum package
Storage period
Shelf-stable when unpacked
All SERS substrates are passivated with a thin transparent dielectic layer.
Useful
as a biosensor for sorption
for treatment with ligands, antibodies, etc. (further acceptor deposition is required)
when chemical treatment of substrate surface is required
for substances whose thickness does not exceed 30 nm
* Stability + — substrates allow treatment in different chemical environments.
Stability – — substrates do not allow treatment in different chemical environments. Only deposition and drying of water, alcohol or chloroform solutions is possible.